"Jason Goes To Hell: The Final Friday" Premiere
Mann's Chinese Theater, Hollywood, CA
August 12, 1993
---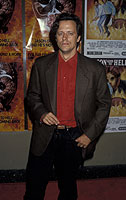 wireimage.com
---
Quotes by Steven Culp regarding the movie:
STEVEN CULP, "Robert Campbell": I was a "theatre actor" at the time, but this was a lead in a movie, and I really needed to do that, even though it was a Friday the 13th. And the people involved were fantastic. Just the fact that Barry was casting, it made me go, "Okay, I'll read the script. I will think seriously about it."
STEVEN CULP: "The first time I saw it I did quite enjoy myself. There was a premiere at the Mann's Chinese Theatre, and we all came by limo. We were even introduced to the crowed after the filmed ended. It was so much fun. And the audience was so into it. I was also happy that my monster stuff came off as well as it did."
[Source: Book title: "Crystal Lake Memories: The Complete History of Friday the 13th" by Peter M. Bracke, Sean S. Cunningham]
---
STEVEN CULP: "The first one I did was when I just first arrived in L.A. and quite frankly, you know, needed the job and really hit it off with the people who were making the film but it wasn't a very good film."
[Source: Interview with Steven Culp on the Todd-n-Tyler Radio Show on May 25, 2007]
---
By 1993, he took one of his most out-of-left-field roles as a man who literally becomes possessed by the black heart of Jason Voorhees in "Jason Goes to Hell: The Final Friday."

STEVEN CULP: "I'm reading the script and just shaking my head, thinking that a year ago I wouldn't even have read this---and now I'm auditioning for it," Culp says with a laugh. "I put together an audition that was a little tongue-in-cheek. It was like, if I were making this movie, how would I be doing it. I started reading and [producer] Sean [Cunningham] literally got up out of his chair and started slapping the floor because he was laughing so hard. I was cast within a day."

Sadly, "Jason Goes to Hell" was not allowed to become the film its creators wanted. Originally, it was to be a tongue-in-cheek John Woo-inspired piece, but New Line Cinema saw the initial cut and demanded it be made into another "teen sex equals death" romp, when all was said and done.
[Source: Interview with Steven Culp on Star Trek Communicator #151: Steven Culp: Major Hayes Gets a Hero's Send-Off, August/ September 2004]
---
Steven Culp At The 'Jason Goes To Hell: The Final Friday' Theater Premier In 1993

Jason Goes To Hell: The Final Friday was given the royal treatment by New Line Cinema when it came to marketing and promotion in 1993. The numerous tie-ins with Topps comic books/trading cards and the Eclipse trading card company along with a large movie premier at the Mann's Chinese Theatre in Hollywood, California gave the franchise a much needed shot of positive exposure outside of the negative kind seen in the 1980's.

The film premier on August 12, 1993 featured a live radio broadcast by the famous Los Angeles morning hosts Mark(Wayne Phelps) and Brian (LaMarr Thompson). So famous were the hosts that they were able to secure their own roles on the film for which we chronicled their involvement a few years ago. The film premier was a huge success and actor Steven Culp ("Robert Campbell" in the film, pictured below at the premier) was quoted as really enjoying the experience.

"The first time I saw it I did quite enjoy myself. There was a premiere at the Mann's Chinese Theatre, and we all came by limo. We were even introduced to the crowed after the filmed ended. It was so much fun. And the audience was so into it. I was also happy that my monster stuff came off as well as it did." (c) fridaythe13thfranchise.com