OUT with A.C.T.
A.C.T. San Francisco, CA
November 5, 2008
---
All photos (c) Wilson Hardcastle
---
---
A.C.T. featured OUT with A.C.T. - a party with the cast after the performance
while enjoying cocktails and delicious treats catered by Bar Adagio and SF Weekly.
---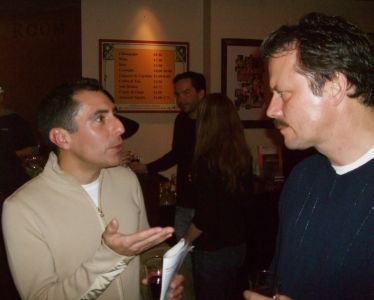 with Paul Ybarbo
(blog entry by Wilson Hardcastle on Nov 6, 2008 about the event the night before)

I spoke a little with Steven about election night the evening before-- they had to do a performance during the election returns. The theater was nearly empty, only 300 people in the audience, and it was a difficult performance knowing so much drama was unfolding off stage. Steven got the results during the show. He wanted to break in with an announcement but was overruled.