"The Parisian Woman," Political Intrigue From Beau Willimon
Mikimoto in South Coast Plaza, Costa Mesa, CA
April 19, 2013
---
All photos (c) SCR
---
---
On Friday night, April 19, 2013, First Nights audience members cheered the cast of The Parisian Woman as the curtain descended on the world premiere by Beau Willimon and then re-grouped at Mikimoto in South Coast Plaza for the Cast Party.
---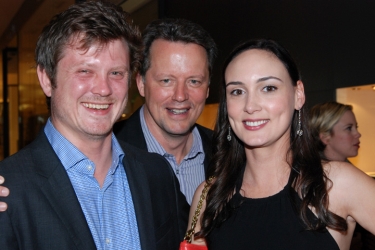 Playwright Beau Willimon, actors Steven Culp and Rebecca Mozo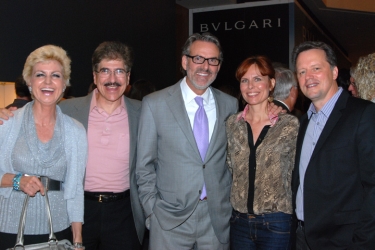 Ardelle St. George, Don Carnegie, Tom Taylor, Theresa Howard with actor Steven Culp
---
The Parisian Woman Opens on SCR's Julianne Argyros Stage, Underwritten by The Playwrights Circle

COSTA MESA, CA, April 26, 2013 – The Parisian Woman, Beau Willimon's new play about scandal in high places, had its world premiere on the Julianne Argyros Stage at South Coast Repertory tonight, directed by Pam McKinnon with underwriting by The Playwrights Circle, a group of individual donors dedicated to helping produce new work.

Greeting First Nights subscribers and their guests were SCR Artistic Director Marc Masterson and Managing Director Paula Tomei.

Masterson began by noting that while Willimon's play Spirit Control was read during the SCR's 2009 NewSCRipts series, The Parisian Woman is his first play to premiere at SCR, adding that he hoped it wouldn't be the last from this playwright whose work won him a Lila Acheson Wallace-Juilliard Playwriting Fellowship, two Lincoln Center Le Comte du Nouy Awards and a 2008 Playwright-in-Residence at the Donmar Warehouse. "However," Masterson added, "many of you will know him best from his play Farragut North, which became the film The Ides of March, as well as for his Netflix series "House of Cards." But tonight, we are pleased to that he has returned to theatre and that we can bring you this play set in Washington, D.C., a town he knows well—from his work on high profile political campaigns—and captures brilliantly."

Tomei thanked the underwriters for helping bring The Parisian Woman to life with a company of talented actors and designers at the top of their fields. "The Playwrights Circle is dedicated to new work," she explained, "and each season its members underwrite a world premiere that will run here on the Julianne Argyros Stage during our Pacific Playwrights Festival.

Tomei then invited playgoers to the post-production Cast Party, sponsored by Mikimoto at its boutique in South Coast Plaza.