Sexy Rex!
Steven Culp Tells Us What His Character's Been Hiding From His Control-freak Wife
(c) TV Week - Australian TV Magazine
April 16, 2005
---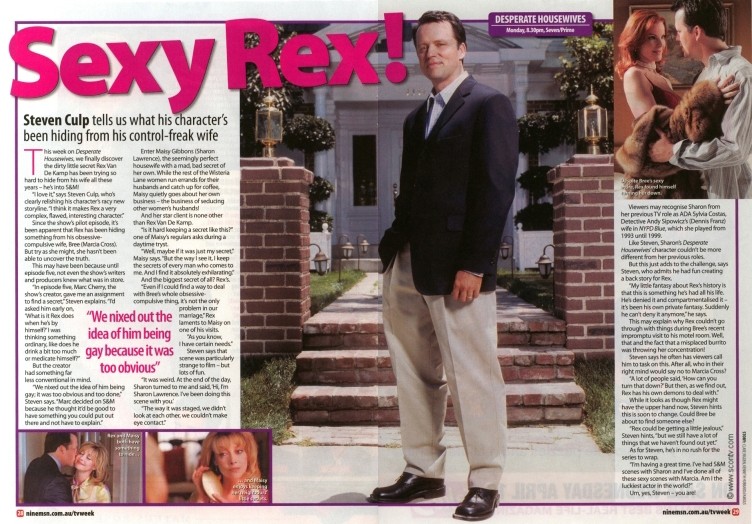 Steven Culp tells us what his character's been hiding from his control-freak wife

This week on Desperate Housewives, we finally discover the dirty little secret Rex Van De Kamp has been trying so hard to hide from his wife all these years – he's into S&M!

"I love it," says Steven Culp, who's clearly relishing his character's racy new storyline. "I think it makes Rex a very complex, flawed, interesting character." Since the show's pilot episode, it's been apparent that Rex has been hiding something from his obsessive-compulsive wife, Bree (Marcia Cross). But try as she might, she hasn't been able to uncover the truth.

This may have been because until episode five, not even the show's writers and producers knew what was in store.

"In episode five, Marc Cherry, the show's creator, gave me an assignment to find a secret," Steven explains. "I'd asked him early on, "What is it Rex does when he's by himself?' I was thinking something ordinary, like does he drink a bit too much or medicate himself?"

But the creator had something far less conventional in mind.

"We nixed out the idea of him being gay; it was too obvious and too done," Steven says. "Marc decided on S&M because he thought it'd be good to have something you could put out there and not have to explain."

Enter Maisy Gibbons (Sharon Lawrence), the seemingly perfect housewife with a mad, bad secret of her own. While the rest of the Wisteria Lane women run errands for their husbands and catch up for coffee, Maisy quietly goes about her own business – the business of seducing other women's husbands!

And her star client is none other than Rex Van De Kamp.

"Is it hard keeping a secret like this?" one of Maisy's regulars asks during a daytime tryst.

"Well, maybe if it was just my secret," Maisy says. "But the way I see it, I keep the secrets of every man who comes to me. And I find it absolutely exhilarating." And the biggest secret of all? Rex's.

"Even if I could find a way to deal with Bree's whole obsessive-compulsive thing, it's not the only problem in our marriage," Rex laments to Maisy on one of his visits.

"As you know, I have certain needs."

Steven says that scene was particularly strange to film – but lots of fun. "It was weird. At the end of the day, Sharon turned to me and said, "Hi, I'm Sharon Lawrence. I've been doing this scene with you.'

"The way it was staged, we didn't look at each other, we couldn't make eye contact."

Viewers may recognise Sharon from her previous TV role as ADA Sylvia Costas, Detective Andy Sipowicz's (Dennis Franz) wife in NYPD Blue, which she played from 1993 until 1999.

Like Steven, Sharon's Desperate Housewives' character couldn't be more different from her previous roles.

But this just adds to the challenge, says Steven, who admits he had fun creating a back story for Rex.

"My little fantasy about Rex's history is that this is something he's had all his life. He's denied it and compartmentalised it – it's been his own private fantasy. Suddenly he can't deny it anymore," he says.

This may explain why Rex couldn't go through with things during Bree's recent impromptu visit to his motel room. Well, that and the fact that a misplaced burrito was throwing her concentration!

Steven says he often has viewers call him to task on this. After all, who in their right mind would say no to Marcia Cross?

"A lot of people said, 'How can you turn that down?' But then, as we find out, Rex has his own demons to deal with."

While it looks as though Rex might have the upper hand now, Steven hints this is soon to change. Could Bree be about to find someone else?

"Rex could be getting a little jealous," Steven hints, "but we still have a lot of things that we haven't found out yet."

As for Steven, he's in no rush for the series to wrap.

"I'm having a great time. I've had S&M scenes with Sharon and I've done all of these sexy scenes with Marcia. Am I the luckiest actor in the world?" Um, yes, Steven – you are!