The Opposite of Rex
Why an S&M Fetish and Now Death is Only Good News For Desperate Houswives' Steven Culp
Culp discusses the possibility of his character's death being a hoax
(c) Entertainment Weekly
June 3, 2005
---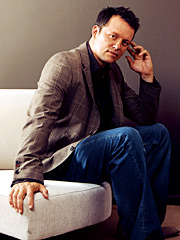 Photo by Gregg Segal / ew.com
More photos taken during this photo shoot can be seen here.
---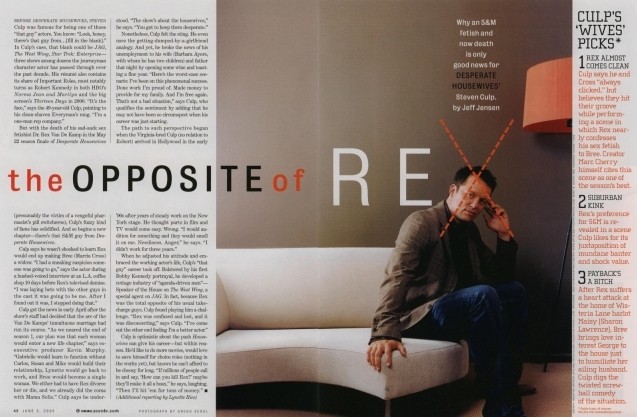 Culp's 'wives' picks*

1 Rex Almost Comes Clean

Culp says he and Cross "always clicked," but believes they hit their groove while performing a scene in which Rex nearly confesses his sex fetish to Bree. Creator Marc Cherry himself cites this scene as one of the season's best.

2 Suburban Kink

Rex's preferences for S&M is revealed in a scene Culp likes for its juxtaposition of mundane banter and shock value.

3 Payback's a Bitch

After Rexx suffers a heart attack at the home of Wisteria Lane harlot Maisy (Sharon Lawrence), Bree brings love interest George to the house just to humiliate her ailing husband. Culp digs the twisted screwball comedy of the situation.
* aside from, of course, the burrito lovemaking scene.
---
By Jeff Jensen

Before Desperate Housewives, Steven Culp was famous for being one of those "that guy" actors. You know: "Look, honey, there's that guy from... [fill in the blank]." In Culp's case, that blank could be JAG, The West Wing, Star Trek: Enterprise — three shows among dozens the journeyman character actor has passed through over the past decade. His résumé also contains its share of Important Roles, most notably turns as Robert Kennedy in both HBO's Norma Jean and Marilyn and the big screen's Thirteen Days in 2000. "It's the face," says the 49-year-old Culp, pointing to his clean-shaven Everyman's mug. "I'm a one man rep company."

But with the death of his sad-sack sex fetishist Dr. Rex Van De Kamp in the May 22 season finale of Desperate Housewives (presumably the victim of a vengeful pharmacist's pill switcheroo), Culp's fuzzy kind of fame has solidified. And so begins a new chapter — there's that S&M guy from Desperate Housewives.

Culp says he wasn't shocked to learn Rex would end up making Bree (Marcia Cross) a widow. "I had a sneaking suspicion someone was going to go," says the actor during a hushed-voiced interview at an L.A. coffee shop 10 days before Rex's televised demise. "I was laying bets with the other guys in the cast it was going to be me. After I found out it was, I stopped doing that."

Culp got the news in early April after the show's staff had decided that the arc of the Van De Kamps' tumultuous marriage had run its course. "As we neared the end of season 1, our plan was that each woman would enter a new life chapter," says coexecutive producer Kevin Murphy. "Gabrielle would learn to function without Carlos, Susan and Mike would build their relationship, Lynette would go back to work, and Bree would become a single woman. We either had to have Rex divorce her or die, and we already did the coma with Mama Solis." Culp says he understood. "The show's about the housewives," he says. "You got to keep them desperate."

Nonetheless, Culp felt the sting. He even uses the getting-dumped-by-a-girlfriend analogy. And yet, he broke the news of his unemployment to his wife (Barbara Ayers, with whom he has two children) and father that night by opening some wine and toasting a fine year. "Here's the worst-case scenario: I've been on this phenomenal success. Done work I'm proud of. Made money to provide for my family. And I'm free again. That's not a bad situation," says Culp, who qualifies the sentiment by adding that he may not have been so circumspect when his career was just starting.

The path to such perspective began when the Virginia-bred Culp (no relation to Robert) arrived in Hollywood in the early '90s after years of steady work on the New York stage. He thought parts in film and TV would come easy. Wrong. "I would audition for something and they would smell it on me. Neediness. Anger," he says. "I didn't work for three years."

When he adjusted his attitude and embraced the working actor's life, Culp's "that guy" career took off. Bolstered by his first Bobby Kennedy portrayal, he developed a cottage industry of "agenda-driven men" — Speaker of the House on The West Wing, a special agent on JAG. In fact, because Rex was the total opposite of his usual take-charge guys, Culp found playing him a challenge. "Rex was confused and lost, and it was disconcerting," says Culp. "I've come out the other end feeling I'm a better actor."

Culp is optimistic about the push Housewives can give his career — but within reason. He'd like to do more movies, would love to save himself for choice roles (nothing in the works yet), but knows he can't afford to be choosy for long. "If millions of people call in and say, 'How can you kill Rex?' maybe they'll make it all a hoax," he says, laughing. "Then I'll hit 'em for tons of money."