The Star of His Own Personal Horror Movie
(c) Dialogue - The Online Magazine of South Coast Repertory
March 22, 2010
---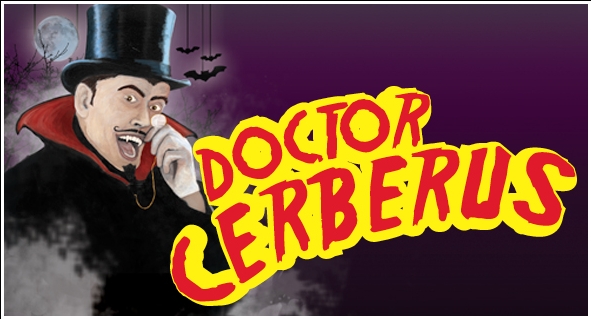 Logo for "Doctor Cerberus" by Crystal Woolard.
---

Frights of Passage
By Kelly Miller

On the first day of rehearsal for Roberto Aguirre-Sacasa's new play, "Doctor Cerberus," director Bart DeLorenzo quoted the first line from Charles Dickens' classic novel "David Copperfield":

"Whether I shall turn out to be the hero of my own life, or whether that station will be held by anybody else, these pages must show."

Meet Franklin Robertson, the wonderfully sweet, awkward teenage hero of "Doctor Cerberus". A coming-of-age comedy with a twist of terror, the play takes place in the suburbs of Washington, D.C., in the mid-1980s. Thirteen-year-old Franklin is trying to survive in a world that feels increasingly like his own personal horror movie. His parents, Lawrence and Lydia, don't understand him. His older, jock brother, Rodney, torments him, and Franklin would rather write stories than go out with friends. (That is, if he had any friends.) His greatest comfort comes from the horror movies he watches on a black-and-white TV set in his basement during "Nightmare Theatre," introduced by the enigmatic Doctor Cerberus. Franklin feels certain that Doctor Cerberus can save his misfit life—if only he can get on the show. With "Doctor Cerberus," playwright Roberto Aguirre-Sacasa has crafted a poignant play about the universal travails of adolescence—and the lovingly dysfunctional family that influences one boy's dream of becoming a writer. He has structured the play around Franklin, a charming narrator who breaks the fourth wall repeatedly to tell the audience stories of his passion for horror movies and writing, his adolescent obesity, and his secret love for boys. Franklin is a sweet, smart, thoroughly identifiable character—an Every Teenager, who defies easy classification. When his Uncle Jack, a TV writer, comes to live with his family, Franklin begins to learn what it means to really use your imagination to tell stories.

SCR presented a staged reading of "Doctor Cerberus" as part of last season's Pacific Playwrights Festival, where it was a great success. Local audiences and industry guests were riveted by Aguirre-Sacasa's insightful familial comedy. DeLorenzo ("Dead Man's Cell Phone, Shipwrecked! An Entertainment"), directed that reading and now returns to direct the production, along with actors Brett Ryback, as Franklin, and Steven Culp, as his father, Lawrence Robertson.

Brett Ryback appeared at SCR in our Theatre for Young Audiences production of "Imagine". Steven Culp performed in both "Raised in Captivity" and "Art "at SCR. They're joined by SCR newcomer Candy Buckley (as Lydia Franklin), whose Broadway credits include "After the Fall," "Cabaret" and "Thoroughly Modern Millie". Jarrett Sleeper (Rodney Robertson) has worked extensively in the Chicago theatre scene and recently had a recurring role on "The Secret Life of the American Teenager." Jamison Jones (Doctor Cerberus) has worked in theater, film and television in L.A., and had a recurring role on "24."



SCR commissioned playwright Roberto Aguirre-Sacasa to write "Doctor Cerberus" in 2007, after presenting a staged reading of his play "King of Shadows". An accomplished writer for theatre, television and comic books, Aguirre-Sacasa is a playwright with an epic imagination and an original dramatic voice. A graduate of the Yale School of Drama, he continues to push the stylistic form of new plays, fusing dramatic storytelling with a lifelong love of pop culture and the horror/fantasy genres.

Roberto's other plays include "Good Boys and True," "Based on a Totally True Story," "The Muckle Man" and "The Mystery Plays". His comedies "Golden Age" and "Say You Love Satan" were both nominated for GLAAD Media Awards and have been produced around the country. He's currently writing a new book for the classic Charles Strouse/Lee Adams musical "It's a Bird, It's a Plane, It's SUPERMAN!" and adapting the novel "American Psycho" for the stage with musician Duncan Sheik. Roberto is a writer for HBO's acclaimed television series "Big Love" and the Harvey award-winning writer of "The Stand" for Marvel Comics.

Franklin Robertson may have grown up in the 1980s, but he's a universally recognizable character and hero. His journey and his dream—to follow his own artistic passion and someday become a writer—speaks to all of us, young and old, who still remember the thrill-ride of our own adolescence, who remember how to dream, and who see a little bit of themselves in Franklin Robertson.