New play by 'House of Cards' creator debuts in O.C.
Dana Delany, Steven Weber star in "The Parisian Woman"
(c) Orange County Register
April 16, 2013
---
By Paul Hodgins


Actors Steven Culp, Dana Delany and Steven Weber, from left, are in the world premiere of "The Parisian Woman" at South Coast Repertory in Costa Mesa. The production runs through May 5 on the Julianne Argyros Stage.
(c) H. Lorren Au JR., Orange County Register
The most surprising thing about Beau Willimon's new play, "The Parisian Woman," is that he found the time to write it. Willimon recently visited South Coast Repertory, where the drama makes its world premiere on Friday, to work with the actors and director Pam MacKinnon, but the St. Louis-born playwright and screenwriter admitted his schedule permitted only a brief stay.

Willimon's life has gotten considerably busier since his breakthrough play, a political-campaign drama called "Farragut North," found widespread success in 2008. That was followed by a popular 2011 film version, "The Ides of March," smartly altered and expanded with George Clooney's help for the big screen. It was nominated for a best adapted screenplay Oscar.

Since then, Willimon has been preoccupied with developing, producing and writing "House of Cards," the first original series developed for Netflix. Based on the popular BBC drama of the same name, it's a dark tale of high-level D.C. politics filled with enough backstabbing, power-grabbing and Machiavellian intrigue to make "The Borgias" seem tame.

All 13 episodes of "House of Cards'" first season were available on Feb. 1. Willimon is hard at work on the second season. "This is how I spent the last three years of my life," Willimon says on his Twitter page link to the series.

"I managed to find nooks and crannies of time to write ('The Parisian Woman') when I was working on 'House of Cards,'" Willimon said by phone from Baltimore, where the series films. "After I was finished with the script, the next step was thinking about where and when to do it."

"The Parisian Woman" was supposed to debut at New York's Flea Theater sometime this season, directed by Hollywood mogul Joel Schumacher. But though Willimon has a longstanding relationship with the tiny Manhattan stage, the play's premiere plans changed.

"I'd opened three of my plays in New York," Willimon said. "I thought it would be a nice change of pace to team up with South Coast Rep. I've had a relationship with them for several years and they've been a huge champion of my work." Willimon has an outstanding commission with SCR which will not be fulfilled by the debut of "The Parisian Woman."

Though the Flea doesn't get the world premiere, Willimon credits it with inspiring him and giving him a subject to tackle.

"La Parisienne," a convoluted story about sexual politics by 19th-century French playwright Henri Becque, "had been on their radar for a long time," Willimon recalled. "They wanted me to adapt it."

Willimon began by doing some homework. "I wasn't familiar with the play at all. It's not that well known, even among the theater-savvy. I read it and loved it."

Willimon, a former Democratic campaign operative who worked for Charles Schumer, Hillary Clinton, Bill Bradley and Howard Dean, imagined resetting the story in a place he enjoys writing about, contemporary Washington, D.C.

"Originally the idea was simply to adapt it and see what we had. Then I started to see other possibilities."

'She'd rather observe'

"The Parisian Woman" is set in Washington's Capitol Hill neighborhood. Tom and Chloe are a couple on the rise. He's a private-sector lawyer from modest means with big ambitions who's angling for a powerful government appointment. She's beautiful and charming, and is willing to use those assets to ensure his success.

Dana Delany, who plays Chloe, says the part has changed substantially since she first read the script in February.

"Chloe was more boldly manipulative earlier on," said Delany, a veteran TV star ("China Beach," "Desperate Housewives," "Body of Proof"). "I think Beau wanted to add more layers to it. She's more of a human being now."

Willimon talked with the actors about the historical context of Becque's play, the world of 19th-century bourgeois Paris – another place where power, seduction and politics were closely intertwined.

"He mentioned the artists who were popular at the time," Delany said. "One of them was (Édouard) Manet, who's a particular favorite of mine. Art somehow helps me with characters. I said, 'My God, I know the perfect painting for this play: Manet's "Le déjeuner sur l'herbe."' It shows a naked woman with two men who are fully clothed. I thought, 'That's Chloe right there.'"

Delany said her character is not overtly ambitious. "She likes to be behind the scenes. She's not Lady Macbeth. She's a sensualist. All she's really interested in is the texture, the dance, the fun of it. She's not vicious at all. She's fascinated by politics but she doesn't want to be part of it. She'd rather observe the whole thing."

But Chloe will do anything to help her husband and serves as his facilitator. "She's like water. The men are the rocks and she flows around them and slowly wears them down."

Chloe's husband Tom is as aggressive as she is subtle. "My character wants to attain a level of success and status befitting all his years of hard work," said Steven Weber, star of the '90s TV series "Wings," who plays Chloe's husband Tom. "He comes from a blue-collar background and believes that his efforts should merit success in politics and business."

Steven Culp plays a Washington powerbroker named Peter, a man who can help Tom's career. "I'm in many ways the opposite of Tom," said Culp. "I grew up on the right side of the tracks. I'm a mover and shaker and can work to his advantage if I choose to."

The three actors would say little beyond that about the play's characters or their fate.

"It's best not to let the audience know too much," Culp said. "I think it's always nice if people go in not knowing what to expect and then they can be surprised and enthralled. There's plenty here that I think will surprise them. That's the way Beau likes to write."


---
'The Parisian Woman'

Where: Julianne Argyros Stage, South Coast Repertory, 655 Town Center Drive, Costa Mesa
When: Through May 5. 7:45 p.m. Tuesdays-Fridays, 2 and 7:45 p.m. Saturdays-Sundays
How much: $20-$70
Length: 1 hour, 25 minutes (no intermission)
Suitability: Adult themes and language
Tickets: 714-708-5555
Online: scr.org
---
More photos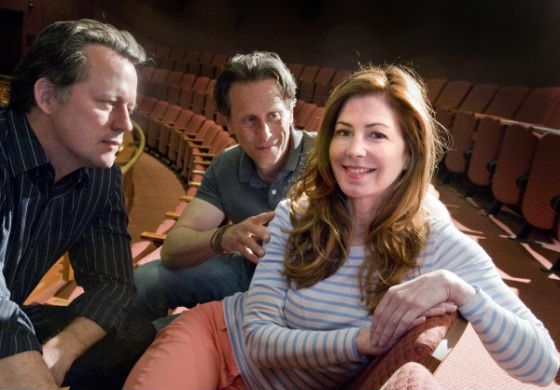 Actors Steven Culp, Steven Weber and Dana Delany, from left, star in the world premiere of "The Parisian Woman" at South Coast Repertory in Costa Mesa. Delany plays a smart, attractive woman who has ambitions for her husband, played by Weber.
(c) H. Lorren Au JR., Orange County Register
Actors Steven Culp, Dana Delany and Steven Weber, from left, are in the world premiere of "The Parisian Woman" at South Coast Repertory in Costa Mesa. The production runs through May 5 on the Julianne Argyros Stage.
(c) H. Lorren Au JR., Orange County Register