Theater Review: The Parisian Woman
(c) Long Beach Comber, From Issue: Volume XXI - Number 9
May 3, 2013
---
By Ben Miles

In 2008 Beau Willimon's play, "Farragut North," premiered on Broadway. Based on Willimon's work with the Howard Dean presidential campaign of 2004, the "Farragut" script was later adapted by Willimon (with aide from Grant Heslov and George Clooney) into a screenplay for the film "The Ides of March"; when that movie was made, it was directed by and starred George Clooney.

Though the play was more successful, dramatically speaking, than the languid and confusing film version, neither iteration of the story is especially memorable.

Now that Willmon has made a celebrity-scribe of himself, through his Netflix series "House of Cards," he is again boldly asserting himself as a playwright in the world premiere of "The Pari-sian Woman," at Costa Mesa's South Coast Repertory Theater. Willimon, inspired by 19th century French dramatist Henri Becque's "La Parisienne," has updated and truncated Becque's timeless conceit of love, power, and politics and placed it in present day Washington D.C.

With TV A-lister Dana Delany alongside the dependable Steven Culp and Steven Weber, and under Pam Mackinnon's original direction, "The Parisian Woman" is a tale of Machiavellian di-mensions with Delany playing cold-hearted power spouse, Chloe, to the hilt of pragmatism (she even describes herself as a pragmatist), if not out-and-out corruption.

Culp convincingly inhabits the role of Peter, a high-level political insider with ties to the executive branch of the U.S. Government, who is a needy, capitulating man-child in the presence of the controlling Chloe (the trim, toying Delany makes this part her own). Meanwhile, Chloe's husband Tom (Weber, portraying a career-focused trial attorney), with a good word from Peter to the American President, just might become the nation's next attorney general.

When Chloe and Tom receive an invitation to a party thrown by Jeanette (Linda Gehringer in a juicy character turn), who's just been appointed to head the U.S. Treasury and who is also a con-fidant of the president's, Chloe and Tom see it as an opportunity to bolster Tom's chances at gaining the cabinet position. What's more, when Chloe meets Jeannette's goal-obsessed young-adult daughter Rebecca (Rebecca Moro in a pivotal part), the game is on and the crass manipulation unfolds in a manner that is surprising and, even, offensive.

Played out on a marvelously mutable set design (Marion Williams), with fetchingly contemporary costumes (David Kay Michelson) and effective lighting and sound designs (Lap Chi Chu and Cricket S. Myers, respectively), "The Parisian Woman" runs for an hour and a half with no intermission. Though it is a tale of amorality and D.C. opportunism, "The Parisian Woman" is also a gripping theatrical experience, due in large part to an extraordinary cast, state-of-the-art stagecraft and Willimon's intriguing dramatization.

"The Parisian Woman" continues through May 5. South Coast Rep is located at 655 Town Center Drive, Costa Mesa. Evening performances are Tuesday through Sundays at 7:45 p.m. Matinees are Saturdays and Sundays at 2 p.m. For reservations, call (714) 708-5555. For online ticketing and further information, visit www.scr.org.
---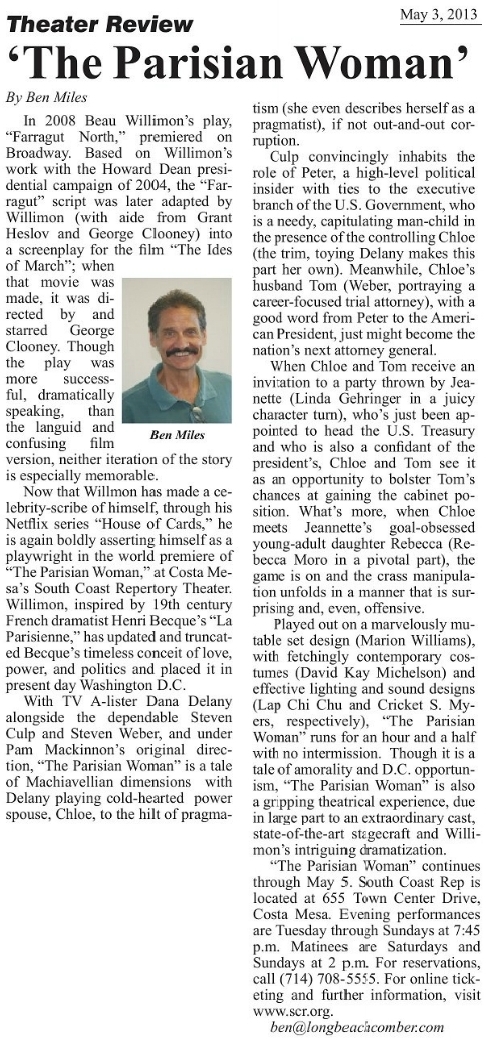 ---