Steven Culp on Desperate Housewives
Book: Behind Closed Doors
Source: "Desperate Housewives: Behind Closed Doors" by Touchstone Television, Publisher: Hyperion, 2005
All texts and photographs copyright @ 2005 Touchstone Television and ABC, Inc.
---
Seven Culp's Rex Van De Kamp is featured in the Desperate Housewives book:
"Desperate Housewives: Behind Closed Doors" - the companion to the First Season DVD set.

In addition to delving into the lives of the Housewives, "Behind Closed Doors" also looks at their children and their husbands.

Steven's Rex Van De Kamp is featured on two pages (58 & 59) in a layout with many photos of him, quotes by him, and an interview with Steven.

In the episode guide there are several photos of and quotes by Rex, and quotes by Steven concerning some episodes.

The book is available at traditional retail stores and through online retailers like Amazon.com.
---

Rex Van De Kamp

The Sexually Submissive, Cheating, WASP-Y Doctor

Over the season, Rex and Bree had ups and downs, but each time Bree pulled away, Rex reeled her in, and vice versa. Though Rex tried to buy his children's affection, solicited prostitution, hid his sexual fetish, and meddled in Bree's dating life, he always seemed oddly right for Bree. This is what made their strong love affair so captivating.

"I feel bad for him," says Cherry, "because he has done so many horrible things to Bree. He is so reviled across the country. But Steven Culp, fortunately, has had a really good time doing it, and I've always been very appreciative of that."

When Bree lost him at the end of Season One, the audience couldn't help but feel sad for her. A new chapter of her life was about to begin, but she had lost her first and only love. She might find another man, but she will never find another Rex.

Rex Van de Kamp has surprised us more than any other man on Wisteria Lane. The staid, WASPy doctor has turned out to be a submissive john with a penchant for being handcuffed to the bed.

Complex and troubled, Rex was nonetheless in love with Bree, even though he couldn't admit it sometimes. At first it seemed all of their marital problems were Bree's fault, but quickly it became clear that Rex was the truly elusive partner. Rex was the one who couldn't open up fully, sexually, because he was afraid to tell Bree just what he liked. Her openness and persistence forced him to admit to his preferences - and when he did he seemed like a liberated man.



---


"You hate to tell an actor as he's signing on, "By the way, you're going to be dead by the end of the year." – Marc Cherry



---


Interview with Steven Culp

The show works because it's really entertaining. Beyond that, I think that there are things that resonate in people's lives. Rex and Bree's relationship is about, How do you keep passion alive over a long marriage? How do you keep love alive? As far out as we get, there's truth in a lot what we do.

That's true of Rex's little peccadillo - you go on the Internet to chat rooms and you realize there are a lot of people out there who are like Rex, who have fantasies or things that they're afraid to tell their partner.

From the beginning, Rex's character has been confused. All he knows is he doesn't want to be where he is. He doesn't know where he wants to go and wouldn't know how to get there if he did. He's got these secrets that he's compartmentalized or denied and now he's finally acting on them. The more the character has unraveled, the more I've been digging it.

Marc and I discussed early on, "What is Rex thinking about when he's by himself?" About five episodes in, he gave me this assignment to see if I could find a fetish. So I was Googling around, looking at sexual fetishes and I came up with the idea that he was into drag kings, women dressed as men. But Marc finally decided on S&M, and I think it turned out to be the best decision.

At the beginning you thought Rex and Bree were just one thing, but their relationship has taken on the levels of a real couple that's been married for eighteen years. In some ways, they're really made for each other, but through the pressure of marriage and kids, they became distant.

Sometimes I joke that we could be doing exactly what we're doing, but if you called the show "Desperate Housewives", people might be a little more sympathetic to Rex. But that's just part of the package.

What I like about Rex and Bree is that we're able to go from the episode where she gets the secret out of him, to watching the tape, to trying to do it and pick a safe word. We go from really intense dramatic moments to high comedy and back again. It's really exhilarating.
---
Pilot
Steven Culp:

In the middle of my first audition, I was reading the scene in the hospital where Rex says he wants the woman he married. I got to a particular point in the scene and I just felt confused. I wasn't sure it was supposed to be funny or serious. When I realized I wasn't going to get back in the moment, I said, "I'm going to stop now. Thank you." I left and I went home, feeling sheepish. The next day, my manager called and said, "What happened at Desperate Housewives?" I told her what happened and she said, "That's interesting because they loved you and they want to see you again today and I think you might get an offer on this." I realized that all those things I was feeling were appropriate for the character. When I went back in I thought, I'm not going to worry about getting this job or impressing them or impressing me. I just want to find out where this thing is going to lead me. And it went very well.
---
102 - Ah, But Underneath
As Bree and Rex's marriage counselor, Dr. Albert Goldfine tried to be a neutral party to the growing rift between the couple and was the only person who knew about Rex's fetish besides Maisy Gibbons.


Marc Cherry:

We knew that Rex and Bree were going to have a troubled marriage and we thought a counseling session would be an interesting way to examine some of their stories.
---
103 - Pretty Little Picture
---
106 - Running to Stand Still
Marcia Cross:

If I told you how many times we had to squeeze that burrito to get the cheese to fall on the floor, you would not believe me. We're all staring at the burrito and there was a burrito special effect man who was behind it with a plunger and he would push it forward while we were kissing.





---




Marcia Cross about Steven as Rex:

"Steven is a wonderful Rex. I can't imagine anyone else doing that part. He has been a complete delight and a great, steady partner through all of this. We've had to deal with a lot of things. He's a hard worker and he's so committed to Rex and trying to find new colors for him, which is not always that easy. At some point I knew that the key to Bree was loving Rex, no matter what or how he came off. She just loves him and wants his love."
---
108 - Guilty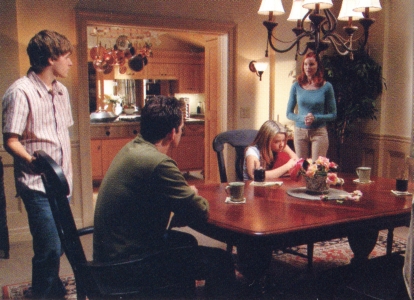 ---
109 - Suspicious Minds
Steven Culp:

When I read the scene where Bree throws urine on Rex I went to Marc and said, "Look, I'm really trying hard not to be just a one-dimensional foil for Bee and it's hard enough without having piss thrown on me." He explained that he didn't want it to be a bad joke on Rex. We talked about what the moment was about and that it was an intense moment between these people. My wife actually gasped when she saw it. The moment was funny but it had all this intense stuff in it.
---
110 - Come Back to Me
<
Steven Culp:

We did two versions of that S&M scene, one that was a little darker and a little edgier, and one where we didn't really see any paraphernalia. Rex and Maisy are having this conversation and ultimately, she starts tying him to the bed. A couple of weeks later, we shot the scene again and it was much better. We're having a conversation about what's going on with the kids and the family, as she's handling all this weird paraphernalia. When I watched it I thought, God, they're so sad and lost about this. He's confiding in her. He can't tell his wife about this fetish and he obviously loves his wife. It was sadder that I thought it was going to be.


Marc Cherry:

I wanted Rex to have a sexual secret, and I went back and forth on what it was. At first, I was thinking he might be gay. But I thought, Well, that's exactly like Far from Heaven. Marcia's a redhead, just like Julianne Moore. One of the writers came up with the idea that Rex only liked to have sex in filthy surroundings. I toyed with that one for about a day. But I didn't want it to be so bizarre that we couldn't come back from it. So I thought, How about some nice garden-variety S&M? I kept waiting for people to be shocked about it, but I haven't heard anything about it.
---
111 - Move On
Steven Culp:

It was so much fun to shoot the scene where George picks up Bree for their date. We're such a great team, the three of us.

I actually did a couple of rehearsals with the director where he just told us, "Do it really fast." It felt like we were doing some Howard Hawks movie, like Cary Grant and Irene Dunne. We ended up slowing it down but it was great to do it like one of those comedies because it made less precious. We were just having a good time.
---
113 - Your Fault
---
114 - Love is in the Air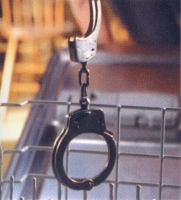 Steven Culp:

This episode had a great line that had to be cut. I don't think it got by ABC. Rex says something along the lines of, "I want to be dominated." Bree says, "Huh?" He says, "I want to be dominated, sexually." She says, "Well, I can get on top, just as long as I wear my bra." It was really funny but I don't think they were able to get it past Standards and Practices.
---
117 - There Won't Be Trumpets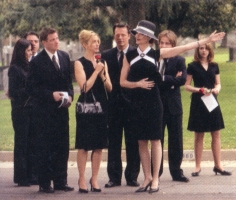 ---
| | | | | |
| --- | --- | --- | --- | --- |
| 118 - Children Will Listen | | | | |
---
120 - Fear No More
---
121 - Sunday in the Park with George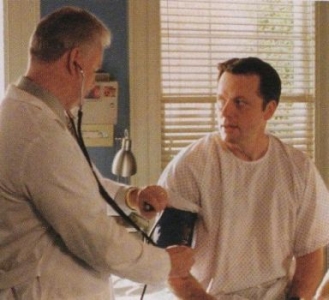 ---
122 - Goodbye For Now
Who killed Rex? Is he really dead? Will we see him in flashbacks?

Sure, George was tampering with Rex's heart medication, but was Bree in cahoots? Rex seems to have thought so just before he expired. He is indeed gone, but don't discount the flashback factor. After all, says producer Kevin Murphy, "we have the hardest-working dead people in show business."
---
---
---
---
---