Steven Culp in "From Within"
Information Page
Please be aware that external links might not work anymore.
---
(October 22, 2009, HuffingtonPost.com, by Scott Mendelson)
Just in Time for Halloween: The 10 Best Modern 'Direct-to-DVD' Horror Films

From Within (2008)

By far the highlight of the third After Dark Horror Fest, this one is directed by cinematographer Phedon Papamichael. So it's no surprise that this elegant tone poem looks absolutely gorgeous. It's actually shot in 2.35:1, which is a rarity for any horror film.

From Within is basically saved as a horror picture. On the surface, it's a moody spook story about a rash of suicides that grip an enclosed Bible-belt community. Steven Culp, Rumer Willis, Margo Harshman, and Adam Goldberg are the recognizable faces, and they provide support to the three relatively unknown leads (Elizabeth Rice, Thomas Dekker, and Kelly Batz). The pay-off isn't as promising as the set-up, but there is a genuine sadness and a willingness to take its subject matter farther than a more mainstream title would dare. This one is about character and mood, and the scares come because we genuinely care about those in peril.
---
(March 29, 2009, Fangoriaonline.com, by Michael Gingold)
FROM WITHIN Horrorfest III Flashback Review

Although it deals with the hot-button topics of religion and suicide, there's never a sense that FROM WITHIN is aiming for gratuitous provocation, or wearing its issues on its sleeves. It's a straightforward, back-to-basics horror drama that looks great—not surprising given that it was directed by the gifted cinematographer Phedon Papamichael. Yet he doesn't let the imagery overwhelm the movie either, employing an eye-catching naturalistic palette that gracefully segues into menacing mood. Papamichael stated at the film's Tribeca Film Festival premiere that horror isn't necessarily his thing, but he proves here that he sure can direct the heck out of a scare setpiece.

Indeed, the movie starts off with a literal bang, as a young man shoots himself on the outskirts of the village of Grovetown, and the Gothed-out Natalie (Rumer Willis, daughter of you-know-who, in a brief but vivid turn), who was with him at that moment, runs through the streets and into her father's store, covered in blood. Witnessing her entrance is high-schooler Lindsay (Elizabeth Rice), who's dating Dylan (Kelly Blatz), the son of the local pastor Joe (Steven Culp). We quickly learn that faith plays a large part in the lives of Grovetown's residents, who go to worship at a mega-church where Joe's image is projected on a huge screen above his stage, and it gets rocked hard as more suicides follow.

The deaths seem inexplicable, but fortunately there's a handy scapegoat on hand: Aidan (Thomas Dekker of THE SARAH CONNOR CHRONICLES), whose brother ate the bullet in that opening scene. The siblings are newly arrived back in town, having fled years before after their mother, believed responsible for the death of a local man and to be practicing witchcraft, died in a suspicious fire. Now Aidan falls under suspicion of bringing the devil's work back to Grovetown, though as he points out, "You can't worship what you don't believe in," and he's soon befriended by Lindsay, who's been chafing at home under the oppression of her alcoholic stepmother Trish (Laura Allen). She eventually discovers what the audience has already learned: Those poor souls are being driven to off themselves by a parasitic evil energy that leaps from each successive body to the nearest living host.

The specific nature of the victims' terrorization is a neat visual conceit in Brad (THE GRAVEDANCERS) Keene's script, and while this gambit could have become repetitive, the writer and Papamichael keep the death setpieces varied and often jolting. With inventive staging, a few splashes of blood and a refreshing lack of CGI, Papamichael makes the supernatural presence palpable while keeping the terror personal. Also noteworthy is the way the film eschews positing religion itself as a negative force—Joe, the town's spiritual leader, is not a frothing zealot but a concerned figurative and literal father—instead emphasizing the way certain people pervert the faith into an excuse for their own destructive impulses. ("On the Sixth Day, God Created the Bolt-Action Rifle" reads a bumper sticker seen in a telling throwaway shot.)

Through it all, Rice is an most appealing heroine, heading a young cast who all inhabit their roles with grace—and, in a switch from many such movies, actually look like teenagers. Adding flavor to the mix are Jared Harris as Natalie's dad, Margo Harshman as Aidan's cynical sister (providing dashes of sarcastic black humor) and Adam Goldberg, first amusingly and later creepily cast against type as a white-trash stud. Unsurpisingly for a film directed by a DP, the visual qualities, including Rafael E. Sanchez's lensing and Susan Kessel's production design, are topnotch, with eerie musical backing by composer Jason Cooper.

Perhaps inevitably, FROM WITHIN loses a bit of its horrific charge once all its secrets have been revealed and the narrative comes down to the two young heroes racing against time and armed enemies to dispel the malevolence. Still, the climactic action is as confidently mounted as what has come before, and the movie doesn't betray its dread-suffused tone for the sake of an easy resolution. Contrary to what a certain studio-division head has stated, FROM WITHIN proves that youth-centric horror is best served when pitched with a grown-up frame of mind.
---
(February 2, 2009, Variety.com, by Dennis Harvey)
From Within Review - Read Variety's Analysis Of The Movie From Within

An After Dark Films release of a Burgundy Films production. Produced by Chris Gibbin, Adrian Butchart. Executive producers, John Moshay, Bumble Ward. Co-producers, Josh Beane, Brad Keene. Directed by Phedon Papamichael. Screenplay, Brad Keene.

With: Elizabeth Rice, Thomas Dekker, Kelly Blatz, Laura Allen, Adam Goldberg, Rumer Willis, Margo Harshman, Brittany Robertson, Jared Harris, Steven Culp, Amanda Babin, Shiloh Fernandez.

Set in a heartland hamlet where the Christian fanatics come to seem as dangerous as the demonic force that's knocking them off, horror opus "From Within" injects some novelty into its standard genre doings. First directorial effort in some time from busy cinematographer Phedon Papamichael ("W.," "Walk the Line") is a competent if unremarkable low-budgeter that should have a respectable life in ancillary after brief After Dark Horrorfest playoff.

In picturesque Grove Town, just about everyone is born again -- though it seems here the answer to "What would Jesus do?" is "Be intolerant of anyone who's not." Thus, the Spindle clan has a very bad rep for allegedly practicing witchcraft. At the pic's start, a teen in the family kills himself to commence a curse avenging his mother's suspicious death some years earlier. This leads to a chain reaction of people being slain by their own doppelgangers, in ways that look suicidal or accidental. High schooler Lindsay (Elizabeth Rice) tries to protect surviving Spindle son Aidan (Thomas Dekker) from the evangelical mob. Low on gore if not fatalities, this decently crafted pic holds attention despite slow spots and routine scares.

Camera (color, Panavision widescreen), Rafael E. Sanchez; editor, Michael Matzdorff; music, Jason Cooper, Oliver Kraus; production designer, Susan Kessel. Reviewed at Century 20, Daly City, Calif., Jan. 10, 2009. MPAA Rating: R. Running time: 89 MIN.
---
(January 16, 2009, amazon.com)
Amazon has listed the DVD artwork for all "8 FILMS TO DIE FOR" as part of AFTER DARK's HORRORFEST 3.

DVDs will be released on March 31, 2009.

To your right you'll find the cover art for "From Within" which is linked to the Amazon link if you'd like to pre-order it.

Synopsis:

A rash of suicides has devastated the small community of Grovetown, with fear and panic spreading among local residents. As those around 18 year-old Lindsay continue to die grisly deaths, she begins to distrust everyone...and suspects she will become the next victim. Directed by Phedon Papamichael. Written by Brad Keene. Starring Thomas Dekker, Elizabeth Rice, Steven Culp, Adam Goldberg, Jake Weber, Laura Allen & Rumer Willis.
---
(January 11, 2009, iconsoffright.com)
Lionsgate Press Release

After Dark Horrorfest 8 Films to Die For
Lionsgate presents the third installment of the After Dark Horrorfest 8 Films to Die For with a new terrifying collection of DVDs from the nationally popular film festival. The DVDs included are The Broken, Slaughter, Perkins 14, The Butterfly Effect: Revelation, From Within, Dying Breed, Voices and the unrated version of Autopsy. These films were released in the top 30 markets in the country on over 100 screens nationwide that ran throughout the week of January 9 - 15, 2009. Each film was created by today's hottest and most groundbreaking filmmakers in horror and is considered to be among the most cutting-edge films to have appeared on the big screen. A true celebration of horror at its most wicked; each film will include bonus materials including "Miss Horrorfest" webisodes that chronicle this year's competition for the chance to become the festival's spokesmodel plus other assorted special features that include "making of" featurettes, webisodes and audio commentaries and is available as single DVDs for $19.98 or all together as a DVD box set for $159.98 on March 31, 2009.

The films include:

FROM WITHIN Synopsis:
A rash of suicides has devastated the small community of Grovetown, with fear and panic spreading among local residents. As those around 18 year-old Lindsay continue to die grisly deaths, she begins to distrust everyone...and suspects she will become the next victim.
---
(January 8, 2009, bloody-disgusting.com)
Steven's movie "From Within" will be released on DVD in March:

After Dark Horrorfest III Coming to DVD This March

Arriving on DVD March 31, 2009 from Lionsgate Home Entertainment are all of After Dark Films' "8 Films to Die For".

The full box set and individual release include the limited releases movies: The Broken, Slaughter, Perkins 14, The Butterfly Effect: Revelation, From Within, Dying Breed, Autopsy and Voices. Extras include featurettes, Webisodes and commentaries.

The third annual After Dark Horrorfest kicks off this Friday and runs in limited theaters through January 15th.
---
(January 2, 2009, horrorfestonline.com)
"From Within" will be shown in the following theaters during the "After Dark Films: 8 Films to Die For" horror film festival that takes places in theaters across the US from January 9th until 15th, 2009. Each film will be screened at least twice; check theater listings for show times.


Atlanta, GA
Barret Commons 24 (AMC)
South Decalb 12 (Phoenix)
Austin, TX
Tinseltown 17 (Cinemark)
Baltimore, MD
Egyptian (Muvico) - Hanover
Boston, MA
Showcase Revere (NAM)
Charlotte, NC
Concord Mills 24 (AMC)
Chicago, IL
Barrington 30 (AMC)
Pipers Alley (AMC)
Columbus, OH
Easton 30 (AMC)
Dallas, TX
Mesquite 30 (AMC)
The Grand 24 (AMC)
Denver, CO
Northfield 18 (Harkins)
Detroit, MI
Forum 30 (AMC)
Imagine 18 Canton (Arcangelo)
Houston, TX
Studio 30 (AMC)
Gulfpoint 30 (AMC)
Jacksonville, MS
Regency 24 (AMC)
Kansas City, MO
Barrywoods 24 (AMC)
Legends 14 (Phoenix)
Los Angeles, CA
New Culver Plaza (ESP)
Beverly Center 13 (Mann)
Plant 16 (Mann)
University Village 10 (Ultrastar) - Riverside
Buena Park Metro 18 (Kirkorian)
Miami, FL
Cocowalk 16 (AMC)
Paradise 25 (Muvico) - Davie
Minneapolis, MN
Wynnsong Mounds View (Carmike)
Nashville, TN
Bellevue 8 (Carmike)
Wynnsong 10 (Carmike) - Madison
New York, NY
Village 7 (AMC)
Linden Blvd (NAM) - Brooklyn
Whitesotne (NAM) - Bronx
Oklahoma City, OK
Tinseltown 20 (Cinemark)
Orlando, FL
Universal 20 (AMC)
Festival 20 (Cinemark)
Philadelphia, PA
Lionshead 16 (Cinemark)
Pittsburgh, PA
Carmike 10 (Carmike)
Carmike 15 (Carmike) - Greenburg
Phoenix, AZ
Deer Valley 30 (AMC)
Arizona Mills 24 (Harkins)
Raleigh, NC
Carmike 25 (Carmike)
San Diego, CA
Mission Marketplace (Ultrastar)
Chula Vista 10 (Ultrastar)
San Fransisco, CA
Daly City 20 (Cinemark)
San Jose, CA
Century 25 (Cinemark)
Seattle, WA
Varsity 3 (Landmark)
St. Louis, MO
Ronnies 20 (Wehrenberg)
Tampa, FL
Ybor 20 (Muvico)
Starlight 20 (Muvico)
Washington, DC
Union Station 9 (Phoenix)
---
(December 9, 2008, 28dayslateranalysis.com, by Michael Allen)
After Dark Films: 8 Films to Die For Tackles Demons From Within

Release Date: "After Dark Films: 8 Films to Die For," coming to Theatres January 9-15, 2009.

Theatres: Everywhere from Atlanta, GA to Washington, DC (check out the "After Dark Films," website).

Introducing Brad Keene the writer for the film "From Within: An American Curse..."

"From Within," is Brad Keene's second major feature with "The Gravedancers," being his first. "The Gravedancers," made its premiere at the 2008 "After Dark Film's Horrorfest," and Keene is now announcing that he is the script writer for the third installment of "The Grudge." "The Grudge," will be shown in theatres in early 2009 once editing is complete (From Within...).


"From Within"

A disease that causes its hosts to commit suicide plagues Grovetown, a small rural outpost in the middle of America. Understandably, panic and fear sweep through this small town and people's suspicion falls on Lindsay, an 18 year-old girl as the carrier. Lindsay begins to distrust everyone. The trauma of witnessing so many of her friends and relatives die by their own hand is too much for Lindsay to take. Now, Lyndsay wonders if she will be the next victim of this contagious disease.

Release Date: January 9, 2009.

Rating: Rated R for violence, disturbing images and some language.

Starring: Laura Allen, Adam Goldberg, Amanda Babin, Brittany Robertson, Elizabeth Rice, Jared Harris, Kelly Blatz, Margo Harshman, Rumer Willis, Steven Culp, Thomas Dekker.

Director: Pheddon Papamichael.

Writer: Brad Keene.

Pheddon Papamichael is the director of films like "3:10 to Yuma," "Identity," and "Sideways." Papamichael is the cinematographer and director of over forty titles and is truly a master of filmmaking. "From Within," made its premiere at the 2008 tribeca Film Festival and it is garnering a great deal of attention from Papamichael's peers and fans of suspense/thriller films.

Some reviewers who have seen the film already are commenting on the acting abilities of Elizabeth Rice and Thomas Dekker, two of the central characters of the story and on the film's cinematography. There is some discussion on the use of lighting and broad color palette of the cinemasphere that is enthralling audiences. It sounds, from reading reviews that the look of the film is full of dark tones with some great exterior shots. Visually stunning with emotionally believable acting means that "From Within," is on this reviewers list of must-sees in 2008.

"From Within," focuses more on the psychological approach to moviemaking rather than the horror. This will please many who like the thriller aspect of film and not the over-the-top violence, blood, and gore of other recent films. With some subplots including religion, and extremism "From Within," is sure to be an entertaining thriller that is a welcome addition to the "After Dark: 8 Films to Die For," film festival.
---
(November 26, 2008, horrorfestonline.com)
The dates were changed, the festival takes place from January 9th until 15th, 2009.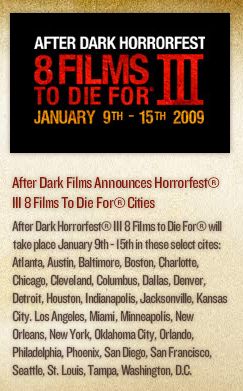 horrorfestonline.com
---
(November 4, 2008, Celsius Entertainment.Wordpress.com)
Celsius, a London based company specialised in the international distribution and financing of independent feature films, has acquired Steven's movie "From Within":

The inventive supernatural teen thriller FROM WITHIN is Celsius' newest acquisition. Directed by celebrated Director of Photography Phedon Papamichael and featuring Thomas Dekker and the ever arresting Adam Goldberg, this tense and atmospheric picture is set in an American town in which a spate of suicides threatens to desolate the entire population.
---
(November 4, 2008)
"From Within" will be shown during the Fantastic Film Festival in Malaga (Spanish Premiere) on Nov 12, 2008. It will be shown en la Universidad de Málaga en el Teatro Alameda Multicines, Sala 2 at 6 pm.
---
(September 4, 2008, dreadcentral.com, by Johnny Butane)
Fourth Film to Die For Announced

After Dark Film's third annual Horrorfest has just added another film to its lineup, Phedon Papamichael's From Within. The film is the story of a small town hit with a rash of suicides. One young girl begins to distrust everyone and believes she will be next.

From Within joins Perkins' 14, The Butterfly Effect: Revelation and Slaughter in this year's lineup, meaning we're already halfway to the eight films to die for! Horrorfest 3 is set to run January 2nd-9th, 2009, meaning you'll finally have something to look forward to to help get you past those post-holiday blues.

As in years past a brand-new Miss Horrorfest contest is already gearing up; check out the details on that right here if you think you have the "lungs" to beat out the competition. Stay tuned for more Horrorfest updates in the coming months!
---
(September 4, 2008, Variety.com)
"From Within" will be shown during the "After Dark Horrorfest" that takes place in theatres across the United States from January 2nd until 9th, 2009, making it the largest film festival in the world.
---
(September 3, 2008, by Gregg Kilday)
After Dark set for January, Fest lineup includes 'From Within,' 'Slaughter'

The third edition of After Dark Horrorfest, dubbed "8 Films to Die For," will take place in theaters nationwide on January 2nd until 9th, After Dark Films CEO Courtney Solomon announced Wednesday.

After Dark first put together a weeklong package of horror films in 2006, grossing more than $2.5 million.

The latest addition to its 2008 lineup is Phedon Papamichael's "From Within," starring Elizabeth Rice, Thomas Dekker, Kelly Blatz, Laura Allen, Adam Goldberg and Rumer Willis. The film, which premiered at this year's Tribeca Film Festival, is set in a small community hit by a rash of suicides.
---
(August 3, 2008, Variety.com, by Andrew Stewart)
'From Within' Joins After Dark Lineup

"From Within" joins the "8 Films to Die For" lineup as part of the third annual After Dark Horrorfest.

Fest runs Jan. 2-9 in theaters across the U.S.

Helmed by Phedon Papamichael, d.p. on "3:10 to Yuma" and the upcoming "W.," pic depicts a town hit by a rash of suicides.


| | | |
| --- | --- | --- |
| | | |
| horrorfestonline.com | | horrorfestonline.com |
---
(August 28, 2008, Splinister.com)
FrightFest 2008 Roundup

Another solid film is From Within, which was written by Brad Keene and directed by Phedon Papamichael. The story is set in a hyper-Christian Midwestern town in the USA. After a suicide of a teen from the local "bad family", a strange series of apparent suicides follow. This is one of the many "don't look in the mirror" films that were shown at FrightFest this year, and was probably the best of them. This movie should prove popular with the fanbase of the Supernatural TV series since it features a good-looking cast, and a rather fine moody young man. The film provides enough scares and storyline to keep you interested, and the actors all put in believable performances. Having a story to work with, and credible dialogue certainly helps.
---
(August 5, 2008, FrightFest.co.uk)
From Within will be shown at the FrightFest at the Odeon West End in London, UK, on August 24, 2008 at 11.15 a.m.
---
(July 1, 2008, SolsticeFilmFest.org)
From Within received awards for Best Original Score and Best Feature Film at the Solstice Film Festival in St. Paul, Minnesota.
---
(June 18, 2008, TVDailyPlanet.net, by Jim Brunzell III)
From Within will be shown at the Solstice Film Festival on June 20th at 8 p.m.

The Third Annual Solstice Film Festival starts June 19 and runs through June 21 at Galtier Plaza in downtown St. Paul, Minnesota.

From Within, another film to debut at this year's Tribeca Film Festival, may take itself too seriously at times but nonetheless is an entertaining B movie with its share of chills and scares. Starting with a gripping opening scene featuring a young woman racing down a street with her face covered in blood, director Phedon Papamichael takes full advantage of achives a Southern gothic, neo-noir look that recalls the mood of Patrick McGrath's novels. The acting is sub-par at best and the plot feels like a few Edgar Allen Poe stories meshed together, but Papamichael—a world renowned cinematographer—keeps the action moving and doesn't sugarcoat the bleak storyline involving a suicide curse surfacing among the devoutly religious residents of a small town. From Within may be nihilistic, but given that most contemporary horror films forget to scare the audience, From Within deserves credit for delivering frequent scares in all the right spots.
---
(May 6, 2008, pronetworks.org, by Larry Richman)
(nothing about Steven, but about the movie)

Review "From Within"

Imagine if the award-winning cinematographer of the 2007 epic 3:10 to Yuma decided to direct his own film. With over 40 titles under his belt, Phedon Papamichael is one of the industry's icons. Well, imagine no more. In the Brad Keene-penned From Within, which had its World Premiere here at the 2008 Tribeca Film Festival, Papamichael takes his considerable expertise behind the camera and crafts an auspicious directorial debut in the Hitchcock tradition.

Something is amiss in Grovetown. The suicide in the opening scene triggers a mystery which will bring teenagers Lindsay (Elizabeth Rice) and Aiden (Thomas Dekker) together in a quest for the truth, both about the occurrences as well as themselves. To say much more would reveal spoilers.

The performances of Thomas Dekker (Heroes, Terminator: The Sarah Connor Chronicles) and Elizabeth Rice (Mad Men) are at the heart of the movie and it's their believability which makes this film so emotional and poignant. Dekker's frightening gaze and enigmatic demeanor never lets up, in perfect contrast to Rice's innocence and vulnerability. Veteran Adam Goldberg (Roy), Rumer Willis (Natalie), and Kelly Blatz (Dylan) are also standouts.

From Within is technically brilliant. The use of single-point lighting and color palette of blues and grays in interior scenes are especially effective in enhancing the shadowy nature of the story, with sunset shots that would likely have been scuttled in a typical Hollywood movie. Here, the dim light works to the film's advantage. The sound effects, along with the Jason Cooper and Oliver Kraus score, also play a particularly distinct role here and are a major plus. As in any film of this genre, visual effects are key and they are top-notch. Most of all, though, the camerawork is simply breathtaking. Shot in widescreen 2.35:1 aspect ratio, the chilling locations and copious use of POV shots enhance the Hitchcockian feel of From Within -- no surprise given the director's background.

Although the film's first act leans toward horror, it soon becomes apparent that From Within is a story-driven psychological thriller more than anything and doesn't need to rely on blood and gore, although there's enough to please fans of the genre. The film's many twists and turns will hold audiences' interest right up to the closing credits. A creepy tale with a strong message about religious extremism and tolerance make From Within more than just another gorefest. From Within is a solid thriller with enough suspense to keep the viewer guessing until the end.
---
(May 2, 2008)
Refering to the news entry from Jul 26, 2007, it is now official: he indeed plays Pastor Joe in the horror movie "From Within." His name is listed on the official website of the movie (>> About the film >> Cast).

Note #1 Be aware that this is a horror movie, so the website is kind of creepy, especially when the volume is turned on.

Note #2 You need to have the Flash Player installed to be able to view the page properly. If your Flash Player is not properly working, all you can see is a black screen. The most recent version of the player for your operating system you can download here.

If you cannot enter the site but still want to see Steven listed there, then click here.
---
(April 30, 2008, nerve.com, Tribeca Film Festival Synopsis: "From Within" by Phil Nugent)
From Within is a good, nasty little horror picture about a mysterious rash of apparent suicides in a small town setting. The ingeniously twisted script, by Brad Keane, involves an occult spell that is used to punish some judgemental fundamentalists for the consequences of their superstitious paranoia, which is just the kind of logical inconsistency that makes for classic nightmares.

The direction, by Phedon Papamichael provides some rude jolts but is more heavily paced than it needs to be and could stand some leavening of humor; Elizabeth Rice is very appealing as the rational-minded teenage heroine, but movie's tone is very much in sync with its young male lead, Thomas Dekker, who (as in the Terminator TV series) is so monotonously, grimly intense that you'd almost pay to see him tickled by professionals. Still, the picture holds you, and its vicious streak is played all the way out to the end, which delivers a surprising kick.

From Within will be best appreciated by those who like their horror movies without milk, cream, or sugar.
---
(April 21, 2008, dreadcentral.com)
At this year's Tribeca Film Festival, going down in NYC this April 23rd – May 4th, Steven's movie "From Within" will be shown!

One of our last films is also one of the strangest playing this year's Tribeca: Phedon Papamichael's From Within. The story follows a girl, brought up in a very strict Christian household, who longs to see the outside world. Before she can make her plans solid, however, townspeople start to die one by one, apparently of suicide, but speculation turns to the girl, whom they believe may be responsible for the deaths somehow.

Papmichael is a noted cinematographer who's responsible for shooting films like the 3:10 to Yuma remake, Walk the Line, Identity and many more. He's going from a script by Gravedancers writer Brad Keene, so there's some serious talent involved here.

Check out the Tribeca screening times for From Within below, followed by a selection of pics and a clip from the film!
Premiere - Friday, April 25 - 9:00pm - AMC 19th Street East, Theater 2
Public 2 - Saturday, April 26 - 5:00pm - Village East Cinemas, Theater 7
Press & Industry Screening – Sunday, April 27 – 2:00pm - Village East Cinemas, Theatre 7
Press & Industry Screening – Monday, April 28 – 10:00pm - Village East Cinemas, Theatre 2
Public 3 - Wednesday, April 30 - 10:30pm - AMC Village VII, Theater 5
Public 4 - Friday, May 2 - 12:15am - AMC 19th Street East, Theater 2
Public 5 - Saturday, May 3 - 11:00pm - AMC Village VII, Theater 1