Steven Culp in "As You Like It"
Opening Date: September 13, 1980
Loeb Drama Center, American Repertory Theatre, Cambridge, MA
---
Besides being in the play as 'Courtier,' Steven Culp was the understudy
to the parts of Amiens, Oliver, Corin, William
---
Playwright by William Shakespeare
Directed by Andrei Belgrader
---
---

Duke Senior
- Jeremy Geidt
Charles
- Harry S. Murphy
Oliver
- Tony Shalhoub
Orlando
- Stephen Rowe
Rosalind
- Cherry Jones
Courtiers
- Steven Culp
- Peter Tamm
- Brady Fowler
- Felix VanDijk
- Antony Rudiè

---
(c) Internet Shakespeare Editions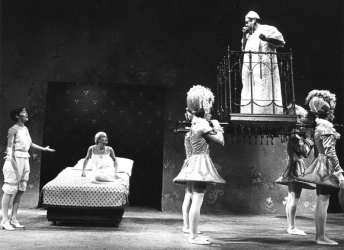 Photo by Richard Feldman
Synopsis:

Duke Senior and later his daughter Rosalind are both unfairly banished to the Forest of Arden. Rosalind's beloved cousin Celia accompanies her. When Rosalind discovers that her lover Orlando has also been banished to the forest, she decides to disguise herself as a young man to test his love. In the end, Rosalind's autocratic uncle is transformed by the benevolence of the woods and returns all of her father's land to him while everyone celebrates the marriages of Rosalind to Orlando and Celia to Oliver.
---
Book: Excerpt from "The American Repertory Theatre Reference Book" by Marilyn Plotkins, page 22

Critical Response: Belgrader's staging of As You Like It enraged critics wary of the A.R.T.'s mission to provide modernist treatments of the classics by experimental theatre artists. They complained that the director tried too hard to win laughs at the expense of lyricism, characterization, and poetry. They were puzzled by the courtiers in grass skirts and offended by Hymen's appearance in a costume with four breasts, a beard, and an array of phalluses dangling from her headgear. Still, an equal number appreciated the inventive design and staging and the company's expert handling of the physical comedy. Kevin Kelly (1980c) thought that the "non-verbal commentary" of the tree-women, lusting after Orlando and nodding off to sleep at Celia's recitation of his poetry, was hilarious. Cherry Jones received accolades for the vigor and naturalness of her performance as Rosalind. The critics also appreciated Karen MacDonald, Gerry Bamman, and Jeremy Geidt, who as Duke Senior substituted w's for r's in the manner of Elmer Fudd.
---
One of Shakespeare's early plays, As You Like It (1598-1599), is a stock romantic comedy that was familiar to Elizabethan audiences as an exemplar of "Christian" comedy. Although the play does include two offstage spiritual conversions, the "Christian" designation does not refer to religion itself. Instead, it denotes the restoration and regeneration of society through the affirmation of certain Christian values such as brotherly love, marital union, tolerance for different viewpoints, and optimism about life at large.

The resolution of the dramatic problem in the warped attitudes of two evil brothers toward good brothers, and related obstacles to marriage for several couples in the play (most notably Rosalind and Orlando) are easily overcome, and a happy ending is never in doubt. On one level, the play was clearly intended by Shakespeare as a simple, diverting amusement; several scenes in As You Like It are essentially skits made up of songs and joking banter. But on a somewhat deeper level, the play provides opportunities for its main characters to discuss a host of subjects (love, aging, the natural world, and death) from their particular points of view.

At its center, As You Like It presents us with the respective worldviews of Jaques, a chronically melancholy pessimist preoccupied with the negative aspects of life, and Rosalind, the play's Christian heroine, who recognizes life's difficulties but holds fast to a positive attitude that is kind, playful, and, above all, wise. In the end, the enjoyment that we receive from the play's comedy is reinforced and validated by a humanistic Christian philosophy gently woven into the text by a benevolent Shakespeare.