Steven Culp in "Blackbird"
April 27 - May 27, 2007 (36 performances)
American Conservatory Theater, San Francisco, CA
---
---

Playwright by David Harrower
Ray
- Steven Culp
Directed by Loretta Greco
Una
- Jessi Campbell

---

Running time: Approximately 120 minutes; there is no intermission.
Recommendation: Contains adult language and situations.

---
---
"I don't feel it's my job to tell the audience what opinion they should have about is this a good guy or a bad guy. My job is to make that decision as hard for them to make as I can."
~ Steven Culp
---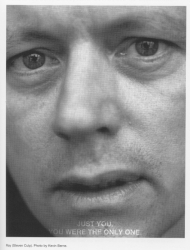 (c) Words on Plays 06/07,
Vol. XIII, No. 6, 2007 A.C.T.
---

Published in the American Conservatory Theater
performance program, April/May 2007, Vol. 13 No. 7

---
---
(c) "Blackbird," Words on Plays 06/07, Insight into the play, the playwright, and the production
Vol. XIII, No. 6, 2007 A.C.T.
Comments Made by Director Loretta Greco

I saw a lot of actors [in audition for this production]. We did an astounding search for these two individuals. You would have thought we were casting a musical; the process was really very muscular. So much of what both Steven [Culp] and Jessi [Campbell] bring to his is a kind of humanity and a kind of "best intentions." These characters are people who are doing the best they can in every moment. I think that one thing that made me exhale [with relief] when Steven walked into the room was just that I liked him. I wanted to know more about him. It was easy for a lot of other actors to do something else with the role, and I think the beautiful thing is that Steven brings a kind of likeability, so that when people see him, even if they have some preconceived notion, they will realize there is something else going on there.
---
---
Production Photos taken on April 27, 2007 by Erik Tomasson
---
---
| | | |
| --- | --- | --- |
| | | * |
---
---
---
| | | |
| --- | --- | --- |
| | | * |
---
*
* pictures taken by Mike Kane
---
Rehearsal photos taken April 4th, 2007 by Kevin Berne

---
---
Blackbird is a powerful production, that explores the outer limits of morality, of sexual desire, and of the impact of the past on the present.

David Harrower's tense and controversial play deals with the aftermath of an affair which ended when Ray set out to buy a packet of cigarettes and never returned. Fifteen years later, Ray has a whole new life, including a new identity, while Una has spent the time obsessively searching for a resolution. As Una confronts him about the true nature of their past, what emerges is a complex portrait of a relationship that blurs the boundaries between lust, love, sexual obsession and something far more sinister. Blackbird is uncompromising honest, surprising tender, and riveting with tension that will leave you hanging on every word, every motion, and every ominous silence. (c) act-sf.org
---
Heralded as both "a high-stakes thriller" and "spellbinding theater" by Variety magazine, Blackbird begins when Ray, a middle-aged office worker, receives a surprise visit from Una, a woman with whom he was involved 15 years earlier. As Una confronts him about the true nature of their past, what emerges is a complex portrait of a relationship that blurs the boundaries between lust, love, and something far more sinister. Hailed as a work that "has the potency of a 21st century Oleanna" (Time Out London), Blackbird tackles its controversial topic with uncompromising honesty, surprising tenderness, and a riveting artistic tension that leaves audiences hanging on every word, every motion, and every ominous silence. (c) theatermania.com
---
"A riveting study in sexual obsession that leaves one both shaken and stirred." - The Guardian (London)
"Blackbird is a drama that mixes guilt, memory, and desire into the most potent of theatrical cocktails . . . a knockout show." - Daily Telegraph
"Brave and intelligent . . . an evening of great theatre." - Evening Standard (London)