Steve Allen's "Meeting of Minds"
January 17, 2010
Working Stage Theater at The Center for Inquiry, West Hollywood, CA
---
Presented as a theater-in-the-round staged reading performance
by Opening Minds Productions in association with Meadowlane Entertainment
Produced by Robert Ladendorf and Diana Ljungaeus.
---

Thomas Paine (1737-1809) - British political writer
- Steven Culp
Queen Cleopatra (69-30 B.C.) - Queen of Egypt
- Stana Katic
Pres. Theodore Roosevelt (1858-1919) - U.S. President (1901-09)
- Bill Smitrovich
Father Thomas Aquinas (c. 1225-74) - theologian
- Joe Spano
Steve Allen (1921-2000) - writer, composer, TV personality
- Jack Maxwell

---
---
Information about Steven's previous performance and pictures of him as Thomas Paine, you can find here.
---
---
Show #2: Battle of Philosophies--or of The Sexes??

Cleopatra uses her captivating powers of persuasion to refute the notion that it is a "man's world." She delightfully defends the preeminence of royalty against Thomas Paine's egalitarian views. The Queen of Egypt then charmingly chides President Theodore Roosevelt for being a reluctant American Imperialist while seductively flouting Aquinas's conception that Virtue is the perfection of power.
---
---
---
Steven Culp alias Thomas Pain with lovely Stana Katic as Cleopatra
---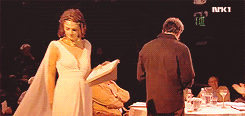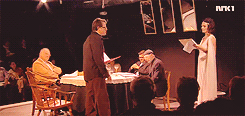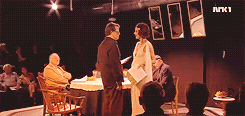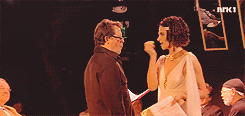 (c) kalliopepl.tumblr.com
---
---
Joe Spano, Bill Smitrovich, Jack Maxwell, Steven Culp, Stana Katic
Photo by Thomas Engstrom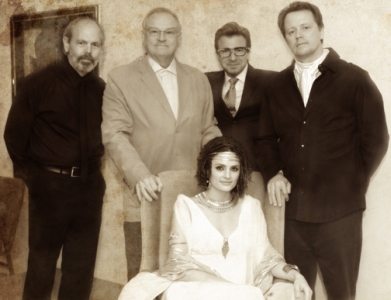 Joe Spano, Bill Smitrovich, Jack Maxwell, Steven Culp, Stana Katic
Photo by Thomas Engstrom
---
Meeting of Minds Revival still Vital

How do you make history even more interesting? Listen in on discussions between Steve Allen, Theodore Roosevelt, Father Thomas Aquinas, Thomas Paine, and Cleopatra discussing politics, religion and real estate grabs.

Last night was the second in the series of live revivals of Allen's '70's PBS series playing at the Steve Allen Theater in Hollywood.

Directed by Steve Megna, the cast breathed new life into this Allen's genius by infusing modern events into the cast's historical views.

Theordor Roosevelt, played by Bill Smitrovich (Iron Man, Independence Day) was forced to defend his backing of the Panamanian's revolutionary junta against Colombia that paved the way for the building of the Panama Canal.

Cleopatra, played by Stana Katic (Kate Beckett in ABC's Castle), was a great proponent of empire building and protecting. According to the Egyptian Monarch, her affair with Marc Antony was one of love rather than political protection. When Thomas Paine was later expounding the virtues of men's inalienable rights she asked if the American Indians voluntarily conceded their lands to the Colonists.

Paine, played by a Steven Culp (Robert Kennedy in Thirteen Days), recounted the humble and often un-united beginning of the United States. England's eventual loss of the Revolutionary War may have been due to the fact that they were fighting a war far away from home - sound familiar?

Thomas Aquinas, played by Joe Spano (Hill Street Blues), parried Paine's insults about theology then later acknowledged that men were put to death for their beliefs (or disbeliefs). Cleopatra, it turns out, is also a proponent of the death penalty.

Steve Allen, played by Jack Maxwell, plays moderator and host to these historical figures. The script, peppered here and there with comedy, is both engaging and entertaining.

Though the actors read from scripts, it in no way diminishes the character's strength or message.

Bill Smitrovich is now developing Teddy Roosevelt's character into one man show that he plans taking on the road to Colleges nationwide.
---
(Sunday, Jan 10, 2010)

STEVEN CULP and STANA KATIC head a star-studded cast in the ongoing revival of Steve Allen's brilliant "Meeting of Minds" plays featuring historical persons in conversation about their lives and ideas.

Thomas Paine - STEVEN CULP ("Thirteen Days")
Queen Cleopatra - STANA KATIC ("Castle")
Steve Allen - JACK MAXWELL ("24")
Pres. Theodore Roosevelt - BILL SMITROVICH ("Without a Trace")
Thomas Acquinas- JOE SPANO ("Hill Street Blues")

Directed by Frank Megna
Produced by Robert Ladendorf & Diana Ljungaeus

Upcoming Show: Sunday, January 17, 2010 @ 7 p.m. Show #2

Performance at The Steve Allen Theater, Los Angeles, CA

$20 at the door pre paid tickets $15