A benefit staged reading of the play
"Speak Truth to Power: Voices from Beyond the Dark"
June 11, 2005
All Saints Church, Pasadena, CA
---
Based on the book by Kerry Kennedy
Directed by Bradley Whitford

---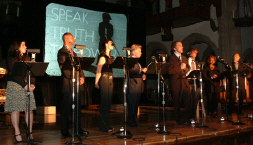 America Ferrera, Rocky Carroll, Melissa Fitzgerald, Martin Sheen,
Steven Culp, Bradley Whitford, Aaron Sorkin, and Hector Elizondo.
Photo by Candice Merrill and Michael Collopy
@ pasadenalivingmagazine.com
---
"The West Wing" actor Bradley Whitford directed and performed in a spectacular rendition of Ariel Dorfman's script, with an award-winning cast including

Steven Culp

, Rocky Carroll, Hector Elizondo, America Ferrera, Melissa Fitzgerald, Janel Moloney, Martin Sheen, Aaron Sorkin, and Alfre Woodard.
---
All Saints Church in Pasadena was the venue for a powerful dramatic performance on June 11th by well-known actors decrying human rights abuses around the world through the inspiring words of women and men who have resisted oppression at grave personal risk.

"Speak Truth to Power: Voices Beyond the Dark," received its West Coast premiere in the one-night performance staged before a capacity crowd in the darkened sanctuary after a pre-play reception in the church's Sweetland Hall.

Television's "The West Wing" star Bradley Whitford, himself a San Marinan, directed and performed in the Ariel Dorfman play along with Martin Sheen, Hector Elizondo, America Ferrera, Alfre Woodard, Rocky Carroll, Melissa Fitzgerald, "The West Wing" creator Aaron Sorkin, Janel Moloney, and

Steven Culp. Mr. Culp is known for his role as Rex Van De Kamp on ABC's hit drama series Desperate Housewives.



The play is based upon the book by Kerry Kennedy, who is the daughter of Robert F. Kennedy. Her book presents inspiring interviews with dozens of human rights leaders from around the world, including Václav Havel of the Czech Republic and Baltasar Garzón of Spain, as well as Nobel Prize winners the Dalai Lama and Elie Wiesel.

Ms. Kennedy was in attendance at the play and addressed the audience before the performance. She was introduced by The Reverend Ed Bacon, who is Rector of All Saints Church.

Also in attendance were three of the actual subjects of the play: Marina Pisklakova, Russia's leading women's rights activist; Ka Hsaw Wa, who has worked for years in the jungles of Burma to defend against atrocities inflicted on the indigenous populations; and Van Jones, a Yale Law School graduate who founded the Ella Baker Center for Human Rights which guards civil rights and creates youth opportunities here in the United States. All three delivered moving impromptu remarks after the play.

For further information about All Saints Church, see allsaints-pas.org.