Steven Culp in "Trip's Cinch"
March 8 - March 27, 1994
World premiered at the Actors Theatre of Louisville, KY
---
---
Presented by the 18th Humana Festival of New American Plays
---
---

Playwright by Phyllis Nagy
Benjamin Trip
- Steven Culp
Directed by Lisa Peterson
Val Greco
- Barbara Eda–Young
Lucy Parks
- Mary Shultz

---
---
---
---
---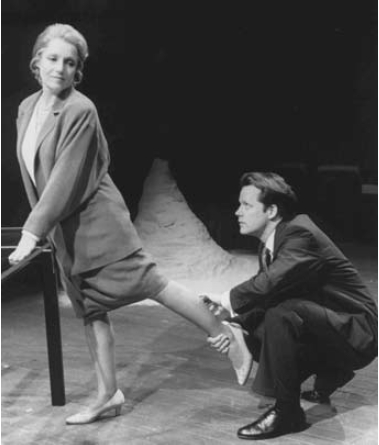 Actors Theatre of Louisville production of "Trip's Cinch" with Barbara eda-Young and Steven Culp.
Photo: Richard C. Trigg.
---
The Accused: Benjamin Trip. Handsome, charming and well-groomed.
The Victim: Lucy Parks. Good-looking, witty and self-assured.
The Academic: Val Greco. Opinionated, formidable and charismatic.
---
Benjamin Trip is wealthy and powerful--and acquitted of rape charges brought by Lucy Parks. Lucy is a school crossing guard who is bitter and lonely. Was Lucy the victim of rape, or is Trip a caring man trying to increase her position in life? The play allows the audience members to decide for themselves – and is sure to spark many after-play discussions and debates. (c) london-se1.co.uk
---
"In three sharp scenes, Nagy presents the viewer with shifting perspectives in the aftermath of an alleged rape. In the first scene a rich, confident young man who has been acquitted of rape charges describes his version of the story to a female academic who is writing a book about the alleged event. In the next scene the academic interviews the young woman, who is hostile towards her. The final scene is a flashback to the night of the alleged rape. Each scene seems to carry a truth, but finally you cannot be certain of what happened, even if you have decided which side you're on." (Theatre Week) In this caustic and wry play, Ms. Nagy gives us both the truth and the lie about this random meeting of two people and the politics of sexual pursuit. Simple set. One-Act Play. (c) playdatabase.com