Steven Culp on "Code Black"
as Dr. Desmond Leighton
---
CODE BLACK is a heart-pounding medical drama that takes place in the busiest, most notorious ER in the nation, where the staggering influx of patients can outweigh the limited resources available to the extraordinary doctors and nurses whose job is to treat them all—creating a condition known as Code Black. At the heart of the ER's controlled chaos is Residency Director Dr. Leanne Rorish, renowned for successfully performing high-risk procedures in Center Stage, the trauma area reserved for the most critical cases. In Center Stage, life is measured in seconds, and these heroic doctors and nurses operate with speed and skill within an overwhelmed system to treat the crowds of people who are often there for one of two reasons: to die or to receive a life-saving miracle.
---
Season 1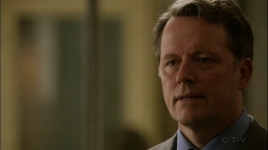 OAD 01/27/2016
114 - The Fifth Stage
---
Season 2
| | | |
| --- | --- | --- |
| | | |
| OAD 09/28/2016 | | OAD 10/12/2016 |
| 201 - Second Year | | 203 - Corporeal Form |
| | | |
| --- | --- | --- |
| | | |
| OAD 10/26/2016 | | OAD 11/09/2016 |
| 204 - Demons and Angels | | 206 - Hero Complex |
Last updated on May 1, 2017