Steven Culp in "Highest Standard of Living"
November 13 - November 30, 1986 (19 performances)
Playwrights Horizons, New York, NY
---
---
Playwright by Keith Reddin
Directed by Don Scardino
---
---

Bob
- Steven Culp
Vlad and Jack
- Timothy Carhart
Man on Ferry, Gary, Yuri
- Kevin Skousen
Ludmilla
- Leslie Lyles
Tom and Larry
- James Murtaugh
Tatiana, Lonnie, Jean, Adele
- Lola Pashalinski
Mother and Helen
- Sloane Shelton
Sergei and Don
- Clement Fowler
Dmitri and Doug
- Peter Crombie
Rodger, Waiter, Man at Bus Stop
- Robert Stanton

---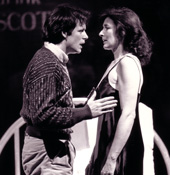 Photo by Gerry Goodstein

Steven Culp with Leslie Lyles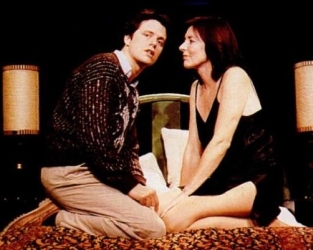 Photo by Martha Swope
(c) New York Magazin Nov 24, 1986, page 86

Steven Culp with Leslie Lyles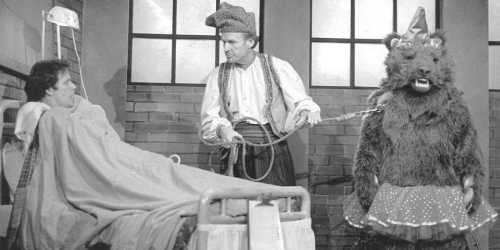 Photo by Gerry Goodstein
Associated Press
New York Magazine
New York Times Review
---
Synopsis:

Bob (Steven Culp), an American student of Russian literature, travels to Moscow to study with Mikhail Bulgakov but suffers from food poisoning so ends up in a Russian hospital, where his fellow patients are (or look like) his mother and other relatives. His nurse Ludmilla (Leslie Lyles) turns out to be a KGB agent, but Bob falls in love with her anyway. Before you know it, seven little boys enter his hospital room and start to beat Bob with little hammers.

In the second act, Bob, having been kicked out of Russia, is back in America, bandaged and bruised. Yet he has Ludmilla with him and is glad to be back in New York. But soon CIA agents approach him and start harassing him in a very KGB-like manner. Eventually Bob and Ludmilla jump off the Staten Island Ferry together, either to freedom or to their deaths. (c) American Theatre: A Chronicle of Comedy and Drama, 1969-2000, by Thomas S. Hischak, Gerald Martin Bordman, 2001, page 269
---
(November 19, 1986, csmonitor.com, by John Beaufort)

Frantic Keith Reddin caper

Keith Reddin's "Highest Standard of Living," at Playwrights Horizons, plunges its naive American hero into a phantasmagoria of misadventures. Part comic nightmare, part black farce, the new Reddin caper proves intermittently amusing, prevailingly frantic, and ultimately forced.

In a succession of bizarre scenes, Mr. Reddin imagines what befalls Bob (Steven Culp), an American graduate student attending Moscow University, when illness lands him in a Moscow hospital and brings him under the scrutiny of Soviet officialdom.

Freed from his Russian ordeal, the innocent abroad returns home to find himself the object of both surveillance and recruitment by United States government agents. (The Moscow-Washington parallels are more shallow than sophisticated.) Bob's paranoia increases with the arrival of Ludmilla (Leslie Lyles), the compassionate and trusting doctor who attended him in Moscow and who has immigrated to America at Bob's suggestion.

By the time the hero's perils reach their tragi-farcical climax, "Highest Standard of Living" has severely tested Bob's and the spectator's endurance. Meanwhile, Reddin fires away at such targets as hucksterism, communist and capitalist consumerism, random American violence, pop music fashions, and big brotherism wherever practiced. While abounding in comic notions, the play lacks a sustaining significance.

A large cast responds energetically to director Don Scardino's demands, in some cases assuming double and triple assignments. John Arnone has equipped the animated cartoon with red brick-wall settings which serve Moscow and New York interchangeably, thus visualizing Reddin's basic sight gag. David C. Woolard costumed the elaborate production and Joshua Dachs designed the lighting. "Highest Standard of Living" runs through Nov. 30.
---
(November 17, 1986, New York Magazine, page 137)

Keith Reddin's Highest Standard of Living, tells of an American graduate student's odyssey as he shuttles between Moscow and New York. Directed by Don Scardino. Featured in the cast are Robert Stanton, Timothy Carhart, Sloane Shelton, Peter Crombie, James Murtagh, Clement Fowler, Leslie Lyles, Steven Culp, Lola Pashalinski. Thur 11/23; $18-$20. Call theater for details. Playwright Horizons Theater, 416 West 42nd Street (276-4200)
---
(1986, New York Magazine, Band 62, page 2)

Highest Standard of Living - Keith Reddin's political farce about an American graduate student in Moscow is weak on politics, but quite a few of the jokes are funny (Act I). The second act doesn't amount to much. Steven Culp does very well in the leading role. Don Scardino directed, and John Arnone designed the witty scenery.

Playwright Horizons, 416 West 42nd Street (276-4200). Tuesdays through Fridays, except Thanksgiving, at 8, Saturdays at 7 and 10 and Sundays at 7, Matinees Sundays at 3.
---
(September 15, 1986, New York Magazine, page 55)

It's the season of the Soviets at Playwrights Horizons: Highest Standard of Living, a comedy of political paranoia by Rum and Coke author Keith Reddin and directed by Don Scardino, will occupy the Mainstage Theatre (November 13)